Sidebar
Types of Retainers: Pros and Cons
It's exciting to finally get your braces off and move into the retainer stage. Here are a few things you should know about the different types of retainers.
A retainer keeps your teeth in place after your braces come off. Which retainers are best? That depends on your specific case. Your orthodontist will help you decide which retainer is best for your situation. It takes almost a year for the periodontal ligaments to solidify into their new positions after your braces are removed. That's why you need to wear your retainer exactly as your orthodontist directs. If you slack off or stop wearing it, your teeth could shift and get crooked again, or gaps could open up.

Most orthodontists tell their patients to wear their retainer 24/7 for a certain number of months, and then wear it only at night. After a few years, you could reduce that to a few nights per week. But don't stop wearing it completely, or you may get an unpleasant surprise one day when you try to pop it back in, and it won't fit anymore!

At first your retainer may feel strange and uncomfortable in your mouth. Be sure to tell your orthodontist if any parts are sticking or gagging you, because he can make adjustments to your retainer so that it is more comfortable. You may find that you lisp or speak a little strangely when you first start wearing your retainer. Don't get discouraged; within about a month you will get used to it and your speech will improve.
Different Types of Retainers
Which retainers are better for you? First you need to know the different retainer types. There are three basic types of retainers:
Hawley Retainers, made of metal and acrylic
Essix Retainers, made of clear plastic (they look like Invisalign aligners)
Permanent Retainers, which are glued to the back of your teeth

Hawley Retainer - This type of retainer is made of bendable wire and acrylic or plastic. The wire goes across the front of your teeth, and the acrylic is molded to fit perfectly inside your mouth. Hawley retainers are available in a large variety of colors and styles, so you can have a little fun with them by adding sparkles or patterns. This type of retainer is adjustable so that your orthodontist can "tweak" your teeth a little bit after braces.

Pros - Adjustable. Allows teeth to touch in a natural way. Lasts a long time with proper care. Easy to clean.
Cons - It is very noticeable. You might lisp at first when wearing it.

Essix Retainer - This type of retainer is made of molded clear plastic and resembles an Invisalign aligner. People like this type of retainer because it is less noticeable than a Hawley retainer. However, it doesn't allow your top and bottom teeth to touch in a natural way. Because of this, some orthodontists don't like this type of retainer. Essix retainers also have a shorter lifespan than Hawley retainers. On average, they begin to wear out after a few years, and then need to be replaced.


Pros - Virtually invisible on the teeth.
Cons - Does not allow the teeth to touch in a natural way. Wears out after a few years. Can be difficult to keep the interior surfaces clean. Traps liquid against the teeth.

Permanent Bonded Retainer - This type of retainer stays in your mouth all the time, because it is bonded (glued) to the back of your teeth. Usually this type of retainer is placed behind the six front lower teeth. Sometimes orthodontists may start you with a bonded retainer, and switch you to a Hawley or Essix retainer after six month to one year. It can be very difficult to floss the teeth which are bonded; you will need to use Threader Floss to do it correctly.

Pros – Retains teeth well. Cannot be seen by other people.
Cons – Difficult to floss. May cut or bother your tongue. May require dental wax to be comfortable at times.


Now you have enough information to know which retainer is better for you. No matter what type of retainer you have, remember to keep it clean. We sell several different types of retainer cleaners for removable retainers. And don't forget to use a good sturdy retainer case! We carry a large selection of retainer cleaners and retainer cases at DentaKit.com. Click on the links below to see them!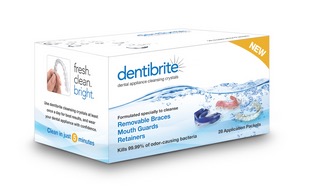 Dentibrite triple action cleaning crystals are an easy and fast way to clean your retainer or aligner. Dentibrite uses a patented formula that kills 99.99% of germs and odor causing bacteria. It removes stains and plaque build-up, and it's persulfate-free and dye-free. And, it's made right here in the USA! Click to buy Dentibrite.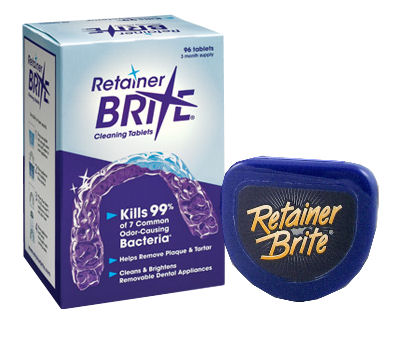 Retainer Brite – Retainer Brite is an effervescing (fizzy) tablet which kills the bacteria on your retainer and helps prevent white plaque buildup. Each tablet is individually foil-sealed, so it's easy to take Retainer Brite with you to the office or on a trip. Just drop one tablet into warm tap water and soak your retainer or aligner tray for 15 minutes. Then rinse it thoroughly with warm water. Optionally, you can use a cordless sonic cleaner, which helps drive the product into all the tiny crevices of your retainer for an even more thorough cleaning. This is the product that my family and I use the most, because we travel a lot. If you already have white plaque buildup on your retainer, Retainer Brite might not get it off. It is best for preventing the plaque buildup with daily use. Click to buy Retainer Brite.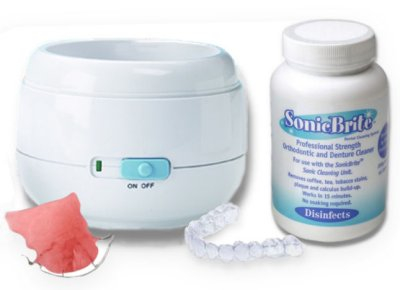 SonicBrite – SonicBrite is a retainer-cleaning powder which comes with a high-quality sonic cleaner. It is a very strong product which not only kills bacteria on your retainer, but does an excellent job in removing the most stubborn white plaque buildup. (If your retainer or aligner has a lot of white plaque buildup, you may need to clean it several times with SonicBrite before the plaque is totally removed). To clean your retainers or aligners, measure one spoonful of powder and place it into the sonic cleaner along with warm tap water. Place your retainer into the liquid and turn on the unit, which runs for 15 minutes. After the unit has finished running, take out your retainer and rinse it with warm water. Click to buy SonicBrite.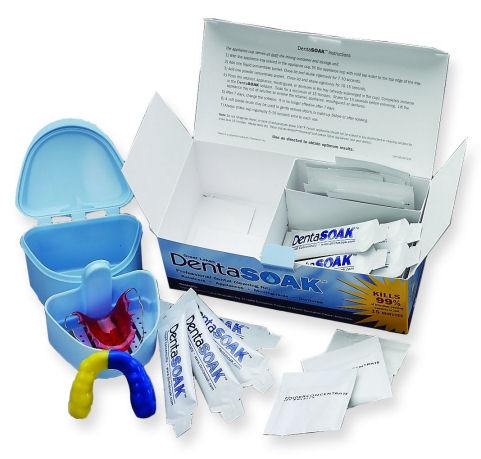 DentaSoak – This is one of the few "cold water" retainer cleaners on the market. You mix it once and use the soaking solution for an entire week. It's great for cleaning any type of retainer, aligner tray, or dental appliance. A 15 minute soaking in DentaSoak kills bacteria. It also removes stubborn white plaque buildup after several uses. And, if you're concerned about allergies, DentaSoak does not contain Persulfates. DentaSoak comes with its own special mixing cup and is great for anyone who doesn't want to mix a new cleaning solution every time. Click to buy DentaSoak.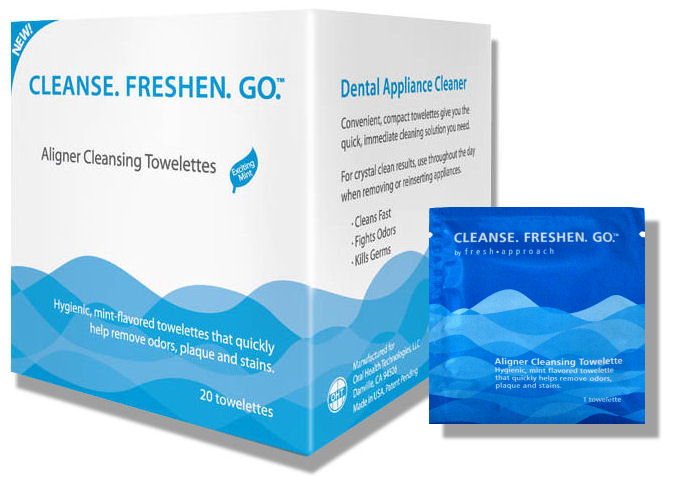 Cleanse Freshen Go – If you're taking your retainer or your aligner trays in and out of your mouth continually, you will want the Cleanse Freshen Go retainer cleaning wipes! The wipes are great for those times when you need to clean your retainer and don't have access to running water. Cleanse Freshen Go also makes a retainer cleaning spray. The wipes and the spray don't contain Persulfates and have a fresh minty flavor. Click to buy Cleanse Freshen Go.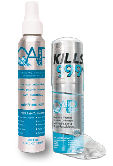 OAP Cleaner – OAP is a Persulfate-free retainer cleaner that kills 99.9% of bacteria on your retainer within 60 seconds. OAP Retainer Cleaner comes in two forms: gel and foam. We recommend the foam for clear Invisalign aligners and clear Essix retainers because it quickly spreads into all of cracks and crevices. The gel is great for Hawley retainers and other types of removable dental appliances -- even ones that contain metal solder. Click to buy OAP Retainer Cleaner.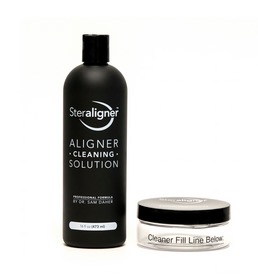 Steraligner is a Persulfate-free liquid that works immediately to clean and sanitize your aligners in just 3 to 5 minutes. With daily use, Steraligner can help reduce yellowing, staining, and bad breath caused by dirty aligners. It leaves your dental appliance sparkling clean and minty fresh. Steraligner was developed by Sam Daher, DDS, a leading orthodontist and lecturer, to provide a better and more effective cleaning system for his orthodontic patients. It doesn't contain any harsh chemicals and has been officially endorsed by Invisalign. Click to buy Steraligner.
Want to know more about cleaning your retainer? Check out our video about the types of removable retainers and how to clean them properly!

Keep Smiling!
-Lynn

About The Author
Lynn S. is the founder and owner of DentaKit.com. Shortly after getting braces in 2001 at age 41, Lynn realized that there was no convenient way for her to find the orthodontic products she needed locally. She created DentaKit.com to give orthodontic patients easy access to products that would help keep their braces and retainers clean and comfortable. Along the way, she also created ArchWired.com and its Metal Mouth Message Board to provide vital information and an online community for adults who have orthodontic braces.

Lynn has a degree in Communications and Journalism, with a focus on scientific writing and research. Before founding DentaKit.com, she was a technical writer and technical trainer for various high-tech companies in Silicon Valley. Since starting DentaKit.com 15+ years ago, she has attended many meetings of various dental associations, and has read and researched extensively on a variety of orthodontic and dental subjects. The articles she writes are always vetted by one or more orthodontists or dentists before they are published.